alyssa is not well. she doesn't fall sick very often. she had only been admitted to hospital three times within her five years of life, after her delivery due to jaundice, one micro-surgery to fix a half-an-inch tear on her earlobes when she fell of into a dry drain and one bout of dengue fever. generally, all admissions were not due to her general state of health. but she has a fever now and woke her mama up last night at 2 am while her father was sleeping soundly beside her. so, as a treat to cheer her up, we decide to try out the newly-opened pizzapondok (thanks gartblue) at our place because she loves the soup there. like the father, she is always so manja and in much need of tlc when we fall sick :D because it doesn't happen very often.
while we were there, i had the chance to try out the different modes in with the phone 2 mpixel camera (wifey's not mine, i am still using the sexy phone) in the brightly-lit restaurant.
first, i tried the portrait mode (without flash, of course) and these are the results. i would have to say reasonable at this size but for printing or full screen viewing it is definitely not up to mark.
| | |
| --- | --- |
| | |
| alyssa in close up | amelya in close up |
still in the potrait mode, i tried taking a macro picture and since i hate digital zooming, the camera is so close to the subject that it produces a cross-eyed view like this one. i think i also used the tungsten light colour correction thus the greenish images.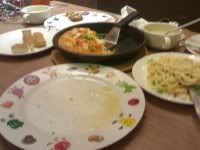 we ordered a cny special meal for two which comes with one regular-sized pizza, two soups, 4 bread sticks and 2 ice lemon tea with no ice and top it off with 4 chicken wings. then we found out that because those orders exceed rm30, we could get a free children meal, a small pasta and soft drink. i was so hungry before because i didn't have lunch at all but wifey brought back a burger she hasn't touched at all from her lunch which i happily devoured in the car en route home. since the two main eaters of the family are not really in the mood of eating anymore, there were leftovers and we tapaued the leftovers.
since that didn't work either, had to think of another strategy. had to take an angled photos and specifically asked these models not to look into their camera which is like 2 mm away from their faces. turns out to be like these.
| | |
| --- | --- |
| | basically i am not too happy with the camera. it really needs so much luck and ideal conditions to take great photos and restaurants are not considered so ideal even with the bright lights. but i have been lucky once and i manage to capture a reasonable image like this one. i want my dslr!!! ::-( . |