in case you were wondering if we managed to beraya sakan before the baby came, we DID. well not exactly beraya sakan if you asked me because even though this raya would be the longest break that i've taken so far (in total it will be about 2 weeks off, i wonder if the people in the office still remember my name when i got back), we went back to the hometown for only 4 days. ok, we love live to the max but don't want to risk it too much don't you.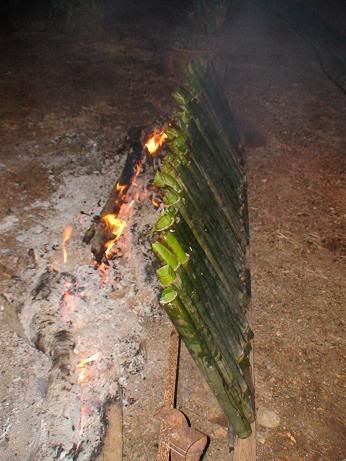 if you don't know what raya is, you can read more about it
here
. it's a big celebration among the muslims here in malaysia.
yes, me and wifey got to eat so much lemang and rendang and ketupat for raya. if you don't know how a lemang is made, there's one photo of it. we did risk it a bit because on raya eve, wifey said that she felt some contractions already but while we could go back to the city on the day itself, the contraction didn't feel that bad during the day so we continued on until the second day of raya (sunday 14
th.
before heading. plus her obigyn was also on raya leave until thursday 18
th.
and frankly i wouldn't know where should the baby decided to come earlier.
so, we went back to the city very early indeed on sunday the 18
th.
considering that the monday and tuesday are still a public holiday. we had no prior experience of rayaing in the city that we were at loss of what to do. we even thought of going to one private tv station's open house on that monday but shelved the plan because it finished too "early". even our uncles and aunties who were residing in the city went back to the hometown so we stayed at home mostly and did some minor shopping for the the baby's last minute preparation and stock up on dry food which was also difficult because most of the little shops that we normally patronised were also closed while praying all the time that the baby would at least stay in the tummy until thursday for the obigyn to come back from her raya holiday as well.
here's one raya photo for you, with a purple theme, of course! what else would it be?
[IMG]http://i117.photobucket.com/albums/o67/suhairims/misc/blogs/raya07/FamilyRaya07.jpg[/IMG]
finally, the long-awaited thursday the 18
th.
arrived and we paid a visit to the obigyn. and right on cue, she said that wifey is already dilated by 4 cm and will be admitted directly to deliver on the same day. i must it was one of the easiest helped by the fact that she took epidural (she insisted on trying one even though it has been foreseen that it wouldn't be long that she had to "suffer" because even at 4 cm, no contractions were felt whatsoever) and finally,
athyra
(final spelling, unlike the name i spelt in the text messages keeping the 'y' convention with alyssa and amelya) came out at 5pm and i this is the first photo i took of her.
[IMG]http://i117.photobucket.com/albums/o67/suhairims/misc/blogs/raya07/modified.jpg[/IMG]
and the powerpuff girls are complete. she is definitely the champion among the 3 in terms of birth-weight at 3.68kg, hair thickness and her latest passion, crying her hearts out when she found out that she has nothing in her mouth when she wakes up. i have yet to be able to take her photos with eyes wide open so i guess this one should do for now.
[IMG]http://i117.photobucket.com/albums/o67/suhairims/misc/blogs/raya07/athyra_second.jpg[/IMG]
i thank god for listening much to our prayers, giving us a healthy baby and timing couldn't even be more perfect than that for almost everybody. we are happy that we had plenty of time to prepare for the baby, the obigyn is happy that she did not decide to come out in the wee hours in the morning and all my family members are too because it was almost weekend and for those who were not residing in the city, that weekend would be the time for the home-town people to come over to the city to visit their relatives there as well. and to cap things off, another record set by the delivery was that wifey was already discharged on the day after only after spending one night in the hospital for the delivery. and thanks to auntie
olab
for the visit, present and duit raya. what else can you ask for? she even washed my dishes and cleaned my floor, hehehehe.
--------------------------------------
wikied athyra and found
this.