what an eventful weekend!!! saturday was spent rushing for
the birthday celebration of alyssa and amelya. started on 11.30 in the morning.
woke up not early enough but still need to fulfil the saturday morning quota of
laundry. alyssa though was counting every minute, too excited to wait for 10am to
have a shower and get dressed in that pricessy dress we bought a long time ago.
had to time that to perfection or else she'd be scratching all over with her
sensitive skin starting to get rashes once she started to sweat.
had to use plan b where had to send wifey and the two
children first before picking up the cake in ttdi or we would be the first host
ever to be late for our own party. by the time i got there with the cake, the
always reliable gartblue was already there. thankfully wifey was there so she
didn't look bored.
some pictures from the party.
style='border-collapse:collapse'>
alyssa ever ready
with a pose
a rare pose from
amelya
the routine-
blowing candles
style='border-collapse:collapse'>
the after-party
free-for-all
and the booties
on sunday, it was time to be a hard labourer. had to help my brother moved house. and he had to buy a three-storey house. the most difficult piece was a three-door wardrobe which was on the second floor of their old house that had such a tiny stairway and it took us a good half hour with chunks of the wardrobe and their old house's ceiling to be brought down to the ground floor. luckily it was a soft board rather solid wood wardrobe or we're definitely leaving it hanging in the stairway to their own imagination to move it themselves. and it had to go to the third floor in the new house which fortunately had a much bigger stairway. hey, despite the absence of any physical activities for the past two years or so, my body is not aching or anything like that tonight. i guess i will have to wait for tomorrow to be sure. if you don't see me logging in and blog-hopping early tomorrow morning, i would either be on emergency leave or medical leave and no prize for guessing why it would be so.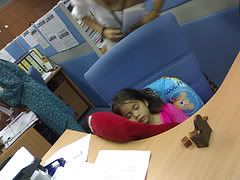 this is one of the photo that wifey took when she took amelya to the office . methink it is very nice and i aptly named it peace amid chaos.
still can sleep while other people are so busy doing stuff around her. so like father like daughter. and definitely mirrors what i'm feeling right now at 12.04am after a long hard day of manual labour.